JTBC's newest police procedural The Good Detective has dropped its main poster, revealing Son Hyun-joo and Jang Seung-jo's transformation into reputable law enforcers.
Set in the city of Incheon, The Good Detective tells the race between police detectives who seek to uncover the truth and the criminals who aim to cover it up.
In the main poster for the drama, Son Hyun-joo (Itaewon Class) looks like a seasoned detective as he projects a sharp facial expression that says, "I am not someone who gets easily outwitted by lawbreakers." He is sporting a black inner shirt and khaki overcoat, complete with an identification card hanging around his neck and a searchlight in his hand.
Son plays Kang Do-chang, a detective born and raised in Incheon who has been in the service for the past 18 years. He investigates cases using his experience and personal connections, forgoing the usual due process of carrying out scientific techniques or adopting logical reasoning.
He is joined by Jang Seung-jo (Chocolate) who looks equally admirable in his all-black attire. With handcuffs dangling from his fingers, he seems to be warning the wrongdoers, "Mess with me, and you will find these wrapped around your wrists."
Jang suits up as Oh Ji-hyeok, an elite detective who has nine years of experience in the force. Unlike Detective Kang, he investigates cases using evidence and insight into the criminal's thinking behavior. Detective Oh is not keen on opening up and sharing his feelings due to a past trauma. He is wealthy because his late uncle left him with a large inheritance.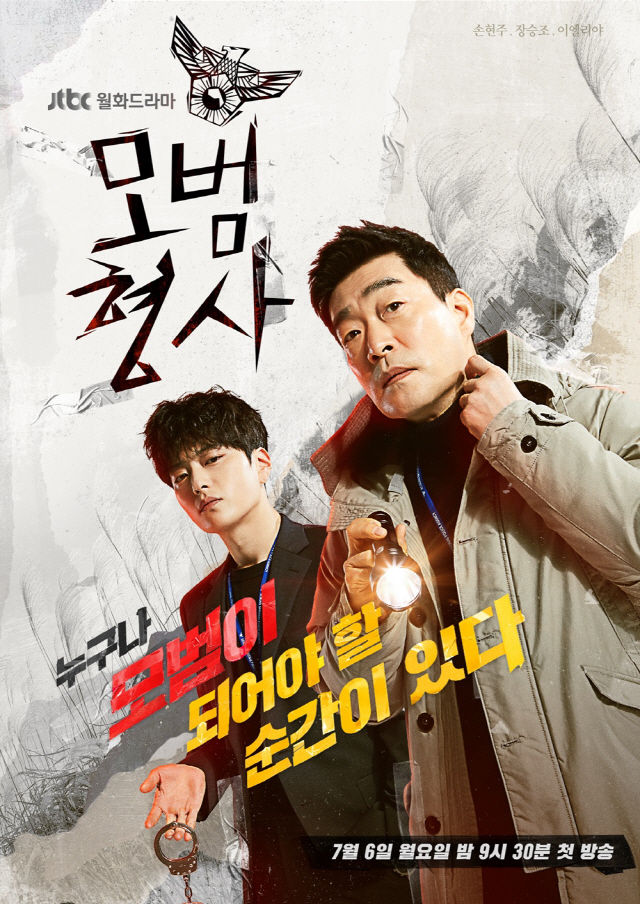 The background for the visual seems to be a tall grass meadow, a typical crime scene location. The title "모범형사," which has a unique font style, is placed on the upper left corner and on top is a sketched version of the symbol from the Korean National Police badge.
The Good Detective, also credited as Model Detective, is spearheaded by the same director-screenwriter duo of JTBC's suspense drama Untouchable (2017–2018), Jo Nam-kook and Choi Jin-won. It is scheduled to premiere on July 6 at 9:30 p.m. KST as a Monday-Tuesday drama, replacing Sweet Munchies.
Source: 1