To celebrate its premiere-month announcement, upcoming thriller movie The Day I Died unveiled its first poster, featuring lead actress Kim Hye-soo.
The Day I Died tells the story of a girl who went to the edge of a cliff and disappeared on a stormy night. The detective who was assigned to her case sets out to track her whereabouts through the suicide note that she left behind and one possible lead from an eyewitness.
Rendering a sneak peek at the intriguing tale is the film's first poster, which emits an overflowing aura of mystery. Kim Hye-soo adopts the typical sleuth-look, donning an outsized leather jacket as she transforms into the female protagonist, detective Hyun-soo. She appears to have been brought to an off-grid location, a whimsical scene where forest plants and lofty trees abound, by her attempts to find the missing girl. With her eyes uncaptured in the frame, Hyun-soo's facial expression is highlighted even more and gives an inexplicably ominous feeling. As if conveying a hidden message, the cryptic caption in the poster reads, "To Survive," which is coincidentally in-line with the title, "The Day I Died."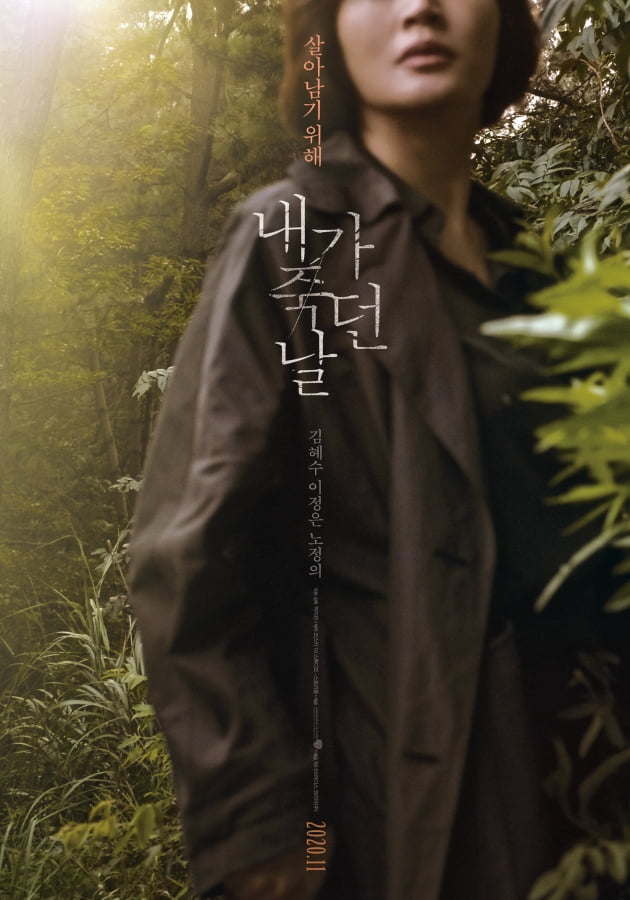 Kim Hye-soo is best known for her roles in the box-office hits Tazza: The High Rollers (2006), The Thieves (2012), Coin Locker Girl (2015), and Familyhood (2016). In the upcoming film, the multi-awarded actress is on portray her next lead role after starring in the financial-crisis-themed movie Default (2018).
Acting alongside Kim is rising actress No Jeong-eui, who previously graced the big screen with young roles in Phantom Detective (2016), Fantasy of the Girls (2018), and A Haunting Hitchhike (2019). In her soon-to-be latest film, No is taking her career even further up by playing the missing girl named Se-jin, the central character of the entire story.
Completing the promising lineup of main cast is Lee Jung-eun, who takes the role of Sun Cheon-daek, a key witness to Se-jin's case. She reaches out to Hyun-soo and tells her that she saw the missing girl a few hours before her suspected suicide at the cliff. Lee has been involved in the film industry long enough to make immeasurable contributions to the field, but arguably her most memorable one yet is the role she played in the Oscar-winning, black-comedy film Parasite (2019).
Slated for release in November, The Day I Died is set to become director Park Ji-wan's full-length debut film. Director Park is a graduate of the renowned Korean Academy of Film Arts (KAFA), the alma mater of countless critically acclaimed professionals in the entertainment industry. Among her previous works is the short film Highschoolgirls (2008), which won the Grand Prize at the 10th Seoul International Women's Film Festival.
Source: 1