tvN's newest comedy-drama series Birthcare Center, starring Uhm Ji-won, Park Ha-sun, Jang Hye-jin, and Choi Ri, amps up its premiere-month announcement with an intriguing video teaser plus main poster visual combo.
Birthcare Center tells the story of new mothers who come from different walks of life but are able to meet each other while in the process of recuperating at a lavish postpartum care center.
It follows the journey of Oh Hyun-jin (Uhm Ji-won, The Cursed), a middle-aged woman who had led a very successful life and career before giving birth to her first child. Used to acing everything she sets her mind to, not having basic practical knowledge on how to bring up a newborn baby comes as a shock to her. After getting discharged from the hospital, she enters an exclusive establishment known for providing first-class postpartum services. To her dismay, she learns that she is the oldest mother at the center and observes that she is the only one who does not have a single clue when it comes to looking after babies. Fortunately, other mothers come to her aid. Among them is Jo Eun-jung (Park Ha-sun, Love Affairs in the Afternoon), who is nicknamed by others as the "Queen Bee" for being experienced at all things related to childcare. Also a new but relatively younger mother is Lee Roo-da (Choi Ri, My First First Love 2), CEO of a lingerie mall who draws the attention of other mothers with her fashion style and youthful mien. At the heart of the postpartum care center is Choi Hye-sook (Jang Hye-jin, How to Buy a Friend), a charismatic director who provides exactly what the recovering mothers need but with a touch of luxury.
The short clip opens with a thrilling yet ominous beat as the scene presents the four exquisitely dolled-up female protagonists. Initially focusing on the seated Oh Hyun-jin and Jo Eun-jung, the camera zooms out to reveal Lee Roo-da and Director Choi Hye-sook who are standing at either side of the frame. With their eyes fixed at the camera, the three mothers are filmed while supposedly enjoying an intimate tea gathering, and Director Choi is there to make sure that they have whatever they needed. Then, quick flashes of elegant, polished amenities take over the screen, showing a glimpse of the sophisticated sanctuary that lies inside the center. The preview closes with an anonymous woman entering a room, addressed by a voice that calls out, "Ma'am?"
Meanwhile, the main poster appears as a still shot from the video teaser where Hyun-jin, Eun-jung, Roo-da, Director Choi gather in an area with a stylish afternoon-tea ensemble, artistically littered with newborn feeding bottles, pacifiers, and teething toys. The three mothers don matching silk, lacy dresses and robes, whereas Director Choi is formally clothed with a conservative-cut peplum top and matching skirt, highlighting her professional aura. What makes the picture incredibly interesting is that Hyun-jin is looking straight at the camera, her gaze a blend of astonishment and concern, while the other women are exuding with confidence as they make side-glances towards her direction. In addition, the caption in the poster gives a hint that things might not actually be what they seem to be as it reads, "Is this really heaven?"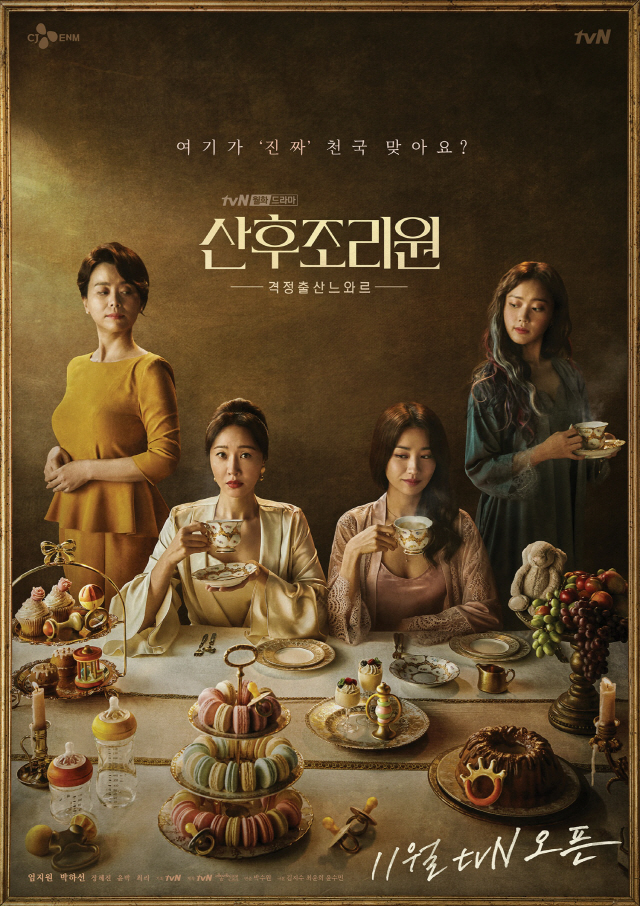 The production crew behind the series shared, "Life in a postpartum care center is usually regarded as heaven-like, but we wanted to add a twist to that notion. Please look forward to how our new mothers will adapt to their lives at the institution. The lineup of cast members Uhm Ji-won, Park Ha-sun, Jang Hye-jin, and Choi Ri will show an unprecedented synergy that aims to surpass expectations, so please check it out."
Birthcare Center, previously known as Postnatal Care Center, is helmed by director Park Soo-won of Big Forest (2018) and penned screenwriter Kim Ji-soo of In Still Green Days (2015). It is slated to air in November as a Monday-Tuesday drama.
Source: 1
READ NEXT: